products :: Nonfiction :: Bible Study ::
The Character of the Christian
The Character of the Christian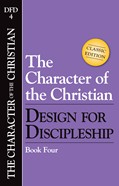 Price:
6.99
ISBN:
978-1-64158-215-5
Trim Size:
5.375 x 8.375
Binding:
Pamphlet
Release:
July 2019
God desires to strengthen the inner qualities that empower our outward behavior. In
The Character of a Christian
, you will focus on five areas of Christian character:
The Call to Fruitful Living
Genuine Love in Action
Purity in Life
Integrity in Living
Character in Action
The Design for Discipleship series has been carefully planned to help you:
Build a habit of personal study of the Bible
Discover the great truths of Scripture
Learn and practice the essentials of discipleship
Through this internationally known series, learn more about the wealth that is yours in Jesus Christ. On your own or in a group, discover what it means to be a Christ-centered disciple, how to develop Christian character, how to have victory over sin, and how to grow toward maturity in your daily walk with God.