products :: Nonfiction :: Education ::
How and When to Tell Your Kids about Sex
How and When to Tell Your Kids about Sex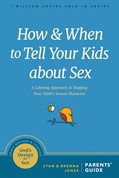 Price:
19.99
ISBN:
978-1-63146-944-2
Trim Size:
6 x 9
Binding:
Softcover
Release:
August 2019
One Million Copies Sold in Series!
Christian Book Award: ECPA Medallion of Excellence
Stan and Brenna Jones help parents establish a biblical view of sexuality in their homes. Building on a biblical foundation, they discuss how to talk with your children about sexual issues and when it's appropriate to tell them what. With stark honesty and practical suggestions, they address
Building a Christian understanding of sex and sexuality
Developing a healthy dialogue with children about sexuality
How and when to explain sexual intercourse
Preparing for the physical changes of puberty
Preparing for dating: dealing with romance and sexual attraction
Encouraging a commitment to chastity
What to do if you're getting a late start telling your kids about sex
Now revised and updated
with helpful material on the dangers of pornography, sexual orientation, and gender identity.