products :: Nonfiction :: Leadership ::
Growing Kingdom Wisdom
Growing Kingdom Wisdom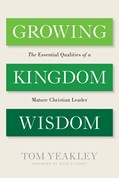 Price:
17.99
ISBN:
978-1-63146-916-9
Trim Size:
6 x 9
Binding:
Softcover
Release:
May 2019
The more responsibilities you take on, the more important wisdom becomes. And yet wisdom seems ever more elusive in a world where values are shaped by short-term successes. Kingdom wisdom—the kind of wisdom sought and celebrated by Solomon and other wise leaders in the Scriptures—is mapped out in this book to set you on a course for real impact in your leadership and the lives of those you lead and mentor.