products :: Bibles :: Text ::
Message Deluxe Gift Bible
Message Deluxe Gift Bible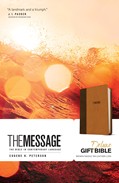 Price:
36.99
ISBN:
978-1-63146-915-2
Trim Size:
5.375 x 8.375
Binding:
Sig
Release:
December 2018
Do you have a friend who just became a new believer? Or maybe you know someone who needs to kick start to get back into God's Word? Customize The Message Bible, just for them! The Message is a reading Bible translated from the original Greek and Hebrew Scriptures by scholar, pastor, author, and poet Eugene Peterson. Reviewed and approved by twenty biblical scholars, The Message shares the truth of God in conversational English-easy to read for all! Take this opportunity to personalize this special gift with meaningful verses, memorable pictures, or beautiful graphics.