products :: Nonfiction :: Devotionals ::
Praying the Message of Jesus
Praying the Message of Jesus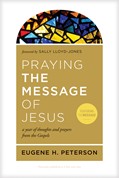 Price:
17.99
ISBN:
978-1-63146-687-8
Trim Size:
5.5 x 8.25
Binding:
Softcover
Release:
October 2017
Prayer is a way of living in response to God.
There are no secrets to living the Christian life. No prerequisite attitudes. No conditions more or less favorable to pursuing the Way. Anyone can do this, from any place, starting at any time. But it is only possible through prayer. We can only pray our lives into the way of following Jesus.

In Praying the Message of Jesus, Eugene H. Peterson has compiled the prayer-centered stories and teachings of Jesus from the Gospels of Matthew and John. Through 365 inspiring days of reading and reflection, you'll deepen your relationship with God as you learn to speak with him daily and make prayer the foundation of your everyday life.

Previously published as A Year with Jesus, but now with additional material.