products :: Nonfiction :: People & Culture ::
Words from the Hill
Words from the Hill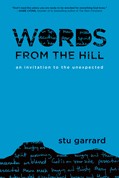 Price:
14.99
ISBN:
978-1-63146-598-7
Trim Size:
5.5 x 8.25
Binding:
Softcover
Release:
April 2017
A disruptive and surprising journey through the Beatitudes.
Most of the time, life doesn't work out like we expect it will. We spend time and energy trying to climb some sort of spiritual ladder, oblivious to the fact that it is God who is moving toward us.

We want answers to our problems, yet what is offered is presence.

What if we were to become united with our brokenness rather than our victories? What if God moves closest to us in the absence, the ache, and the longing?

Words from the Hill turns each beatitude on its head to see the unexpected beneath the understood—diving into the story of a woman on death row to speak about mercy, personal stories from the Israeli-Palestinian conflict to talk about peace, and much more. Stu Garrard has walked with these people in their stories, and he vulnerably offers his own as he unpacks the Good News of the Beatitudes.

God is on your side, and He is closer than you think.