products :: Nonfiction :: People & Culture ::
Meals from Mars
Meals from Mars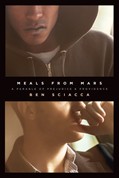 Price:
14.99
ISBN:
978-1-63146-544-4
Trim Size:
5.5 x 8.25
Binding:
Softcover
Release:
February 2017
A fateful encounter late at night at a gas station in the hood brings together a white man from the suburbs and a young black man from the neighborhood. Stuck with each other for the night, they deal with their core prejudices, the walls that keep them from each other, and the discovery of their God-given humanity in one another.

When talking about race, it helps to have something specific to talk about?a story we can all wrap our heads around. In Meals from Mars, Ben Sciacca provides that story: two men from different worlds forced by circumstance to see and hear and consider one another. It is a novel that demonstrates the social challenges and relational potential for racial reconciliation.