products :: Nonfiction :: Counseling / Psychology ::
Return to Joy
Return to Joy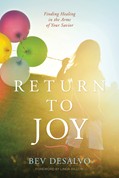 Price:
14.99
ISBN:
978-1-63146-540-6
Trim Size:
5.5 x 8.25
Binding:
Softcover
Release:
July 2016
In Return to Joy, Bev DeSalvo shares her own story of healing from past pain to draw other women along a journey toward intimacy with their Savior. The road to healing is arduous and long. But when we bow our pain in worship, this broken road leads to the heart of God, where all masks are removed and divine comfort can be experienced.

On this journey, understanding the true nature of the Father, Son, and Holy Spirit brings healing and restoration to all father, relational, and mother wounds. Learning to aggressively fight against Satan, who is devious but not creative, replaces his evil lies with the truth of God so that they no longer define the person. Recognizing that God is always "with me" leads to a place of rest where there is no fear of being rejected or abandoned. As a result of these new insights, the reader can finally return to joy and experience emotional and spiritual balance. Out of the overflow of intimate worship, God becomes their refuge, provider, and protector, enabling them to move toward others in forgiveness and true community.

Includes a ten-week Bible study.