products :: Nonfiction :: Spiritual Growth ::
Crossroads on the Journey
Crossroads on the Journey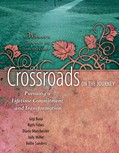 Price:
14.99
ISBN:
978-1-63146-537-6
Trim Size:
7 x 9
Binding:
Softcover
Release:
July 2017
Crossroads on the Journey invites women to deepen their walk with Christ. As you walk with Jesus daily, you will have opportunity to take new steps of faith, which will equip you for everyday life decisions. This book will help you make decisions based on Scripture, develop lifelong convictions, and pass on God's love to others. Book 2 in the series. Other titles include book 1, Bridges on the Journey, and book 3, Friends on the Journey.