products :: Nonfiction :: Home / Family ::
Next Door as It Is in Heaven
Next Door as It Is in Heaven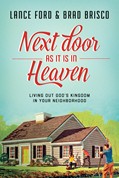 Price:
14.99
ISBN:
978-1-63146-497-3
Trim Size:
5.5 x 8.25
Binding:
Softcover
Release:
August 2016
There was a time when neighbors knew each other's names, when small children and the old and infirm alike had more than their families looking out for them. There was a time when our neighborhoods were our closest communities.

No more. Neighborhoods have become the place where nobody knows your name. Into this neighborhood crisis the words of Jesus still ring true: Second only to the command to love God is the command to "love your neighbor as yourself."

In Next Door as It Is in Heaven, Lance Ford and Brad Brisco offer first principles and best practices to make our neighborhoods into places where compassion and care are once again part of the culture, where good news is once again more than words, and where the love of God can be once again rooted and established.