products :: Nonfiction :: Inspirational ::
Closer Than Close
Closer Than Close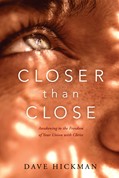 Price:
14.99
ISBN:
978-1-63146-408-9
Trim Size:
5.5 x 8.25
Binding:
Softcover
Release:
August 2016
How many times have you heard someone say, "I want to be close to God," or "I feel far from Jesus?" For many of us, we have been led to believe that our relationship with Jesus is based on proximity—a sliding scale of "near" or "far" based on the faithfulness of our spiritual devotion.

But what if being "close" to you isn't good enough for Jesus? What if he wants to be closer than close? Instead of simply having a "personal relationship" with you, what if Jesus longs to be "perfectly one" with you instead?

In this achingly bold and beautiful book, pastor, scholar, friend, and now author, Dave Hickman, invites you into his personal journey from striving to abiding, anxiety to peace, weariness to rest; from having a relationship with Jesus to awakening to the freedom of his union with Christ. Through careful attention to Scripture, personal stories, and everyday examples, join Dave as he guides you into the depths of the mystery of your personal and corporate union with Christ. In doing so, you, too, can awaken to the wonder and freedom that is already yours in Christ.