products :: Nonfiction :: Counseling / Psychology ::
Whole
Whole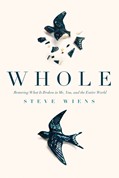 Price:
14.99
ISBN:
978-1-63146-404-1
Trim Size:
5.5 x 8.25
Binding:
Softcover
Release:
August 2017
Look around, and you'll notice: The world is covered with jagged edges. People and places are broken all around us.

We were made for better than this: We were made to be whole, and wholly human, to tend a world that is wholly humane. We were made in the image of God. This book is a quest to recover that image in ourselves and our neighbors, to help us all become human and humane again.

For Christians who lament the brokenness in themselves, their neighbors, and the world around them, Whole offers a rallying cry to pursue wholeness together.