products :: Nonfiction :: Inspirational ::
Honestly
Honestly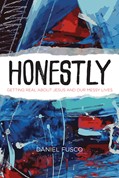 Price:
14.99
ISBN:
978-1-63146-386-0
Trim Size:
5.5 x 8.25
Binding:
Softcover
Release:
April 2016
Your life is messy, hard, and uncertain right now—and if it isn't, it has been or it will be. Messiness is the human condition. Part of the messiness is the unpredictability of life, not the unrelenting evil of life. And Jesus shows up inside all of that, because He experienced every aspect of what it's like to be human: joy, physical pain, family arguments, frustration, existential trauma, and more. If Jesus is a real person, we should expect to meet Him in all of life. And only through the Good News and love of Jesus can we learn how to thrive in the midst of our mess.

Daniel Fusco, a pastor and jazz musician, riffs on the major themes of the book of Ephesians to help each of us find God in the midst of our mess.