products :: Nonfiction :: Devotionals ::
Kingdom Woman Devotional
Kingdom Woman Devotional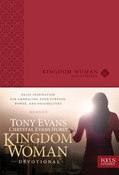 Price:
15.99
ISBN:
978-1-62405-122-7
Trim Size:
4.5 x 6.5
Binding:
LeatherLike
Release:
October 2013
Sub-titled "Daily Inspiration for Embracing Your Purpose, Power, and Possibilities," this new 90-day devotional for women reinforces the message from the book Kingdom Woman (by Chrystal Evans Hurst & Tony Evans), calling every Christ-following woman to tap into the power of God as she finds and fulfills the purpose for which God has fashioned her. A Kingdom Woman seeks to align herself and operate under the authority of God—in every area of life. With practical insights and applications in both the lives of Christian women and those they love, this devotional will encourage women to embrace their role as leaders under God's authority, disciple them to live as true heirs under the covenant God made with His children, and challenge women to initiate the practical principles of living under the rule of Christ.