products :: Bibles :: New Testament & Portions ::
The Book of Proverbs KJV/Message
The Book of Proverbs KJV/Message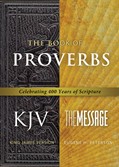 Price:
12.99
ISBN:
978-1-61747-189-6
Trim Size:
5 x 7
Binding:
Softcover
Release:
September 2011
At the 1604 Hampton Court Conference, James I, the first king of both England and Scotland, was persuaded that a new Bible translation was needed and ordered work to begin. Little did he know that this new Bible's influence would be felt around the world. Today, the King James Version is viewed as a cornerstone of the church, Western culture, and the development of the English language. To celebrate the KJV's 400th anniversary and the tenth anniversary of The Message, this parallel Bible presents the book of Proverbs in both versions. Read the verses both ways to appreciate the language of James I's court and the contemporary speech of today.