products :: Bibles :: Teens ::
The Message//REMIX
The Message//REMIX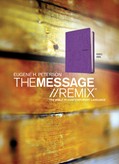 Price:
39.99
ISBN:
978-1-61521-924-7
Trim Size:
5.187 x 7.125
Binding:
Leather-Look, Purple
Release:
February 2011
The Message//REMIX is a reading Bible for youth that comes loaded with expanded book introductions, written for young people, that set the scene for the book. Verse-numbered paragraphs help readers track where they are in the chapter. Maps and charts help for easy reference. A topical index of issues students face help readers locate the appropriate Scripture reference.