products :: Nonfiction :: Bible Reference ::
Ezra & Nehemiah
Ezra & Nehemiah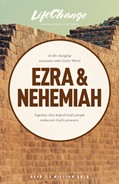 Price:
11.99
ISBN:
978-1-61521-728-1
Trim Size:
5.5 x 8.5
Binding:
Softcover
Release:
February 2019
Rediscover God's Presence
When life is a shambles, we wonder what went wrong and long to see things put right. And often we long for the sense of God's presence to return to our lives. The city of Jerusalem was a shambles—both its walls and its worship were crumbling. Ezra and Nehemiah longed to see their city restored with God's presence, and each one pursued that goal in his own God-given way. Ezra the scholar restored Israel's worship. Nehemiah the architect resurrected Jerusalem's walls. Together, they helped God's people rediscover God's presence, and their stories will help you, too.
LifeChange
LifeChange Bible studies will help you grow in Christlikeness through a life-changing encounter with God's Word. Filled with a wealth of ideas for going deeper so you can return to this study again and again.
Features
Cover the books of Ezra & Nehemiah in 8 lessons
Equip yourself to lead a Bible study
Imagine the Bible's historical world
Study word origins and definitions
Explore thoughtful questions on key themes
Go deeper with optional projects
Add your notes with extra space and wide margins
Find the flexibility to fit the time you have