products :: Nonfiction :: Bible Reference ::
Deuteronomy
Deuteronomy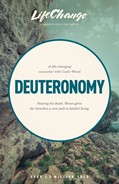 Price:
12.99
ISBN:
978-1-61521-642-0
Trim Size:
5.5 x 8.5
Binding:
Softcover
Release:
October 2018
Moses' Last Words
Forty years in the desert had taught God's people how to follow and not wander. Now, in sight of the Promised Land, Moses knew they faced the risk of settling down and getting comfortable—only to wander and not follow. Nearing his death, Moses gives the Israelites a new path to faithful living: remember and reaffirm. Remember God's unwavering presence with them in the desert, and reaffirm their commitment to being His people, even life got more comfortable. Whether you are a wanderer or a follower, Moses' last words will help you remain rooted in God's love.
LifeChange
LifeChange Bible studies will help you grow in Christlikeness through a life-changing encounter with God's Word. Filled with a wealth of ideas for going deeper so you can return to this study again and again.
Features
Cover the entire book of Deuteronomy in 13 lessons
Equip yourself to lead a Bible study
Learn even more with 7 bonus lessons on justice
Imagine the Bible's historical world
Study word origins and definitions
Explore thoughtful questions on key themes
Go deeper with optional projects
Add your notes with extra space and wide margins
Find the flexibility to fit the time you have