products :: Nonfiction :: Spiritual Growth ::
Life Verse
Life Verse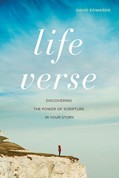 Price:
14.99
ISBN:
978-1-61291-638-5
Trim Size:
5.5 x 8.25
Binding:
Softcover
Release:
September 2014
The Life Verse experience helps readers see the broad themes of Scripture and overlay them on the themes of their own lives. From there, author David Edwards invites readers deeper into Scripture to find their personal life verse and to understand the richness of its context and the fullness of its application. Finally, readers learn how to use their life verse in sharing Christ with others. This compelling experience helps readers learn to see the Bible thematically, read it personally, and share Christ in a natural and biblical manner, while finding their true identity in God's Word.

This book will help you Discern where you're at, Discover that life verse, Develop the life verse, go Deeper with the verse.
Endorsements
I wish I had read a book like this decades ago. Life Verse is a remarkable blending of biblical truth and practical counsel. Young believers and veteran Christians will both benefit from reading this book.
Warren W. Wiersbe, former pastor of Moody Church