products :: Nonfiction :: Home / Family ::
Unashamed
Unashamed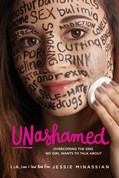 Price:
13.99
ISBN:
978-1-61291-628-6
Trim Size:
5.5 x 8.25
Binding:
Softcover
Release:
June 2015
Are you living in silent shame, hiding a "secret sin"? Maybe you numb life's pain with a bottle, razor blade, or sex. Maybe you "binge and purge" or act on feelings for other girls. Whatever your "secret"—shocking or not—if you're trapped by it, you're trapped by it. And chances are you're not getting help because you're too scared of what people would think if they found out.

Unashamed breaks the silence about the sins girls think they have to hide. With daring and a touch of humor, author Jessie Minassian shares her own story of struggle and victory. God longs for you to live in the freedom He died for!

So whether you're caught in a cycle of sin yourself or just want to know how to help the silent sufferers all around you, let this book be the beginning of your journey toward health, healing, and freedom in His love for you.