products :: Nonfiction :: Personal Growth / Self-Help / Motivation ::
Crushed
Crushed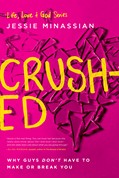 Price:
13.99
ISBN:
978-1-61291-627-9
Trim Size:
5.5 x 8.25
Binding:
Softcover
Release:
June 2014
What is it about girls that makes us want to be with a guy so badly we can't stand it? Are those crazy emotions normal? Are they okay? Is there a better way? Seriously—is it even possible to get to marriage without having your life shattered by a member of the opposite sex? And what kind of man should you want to marry anyway?

Through the pages of Crushed, readers will learn the truth from God's Word about who we are, why our hearts are so precious, how to navigate relationships, and what a healthy, God-centered romance might look like.
Endorsements
To date or not to date, that is the question. Jessie answers it and a lot of others as she moves you from being "crushed" to courageous in how you approach your love life.
Dannah Gresh bestselling author and creator, Secret Keeper Girl


If you're devastated over a breakup—or know someone who is— this book is for you! Jessie is the real thing. You can trust her because she really does know about life—and love—and God—and she really does care about what you are going through. Cuddle up with this book and listen in as Jessie shares gobs of helpful stuff that really will make a difference in how you view yourself and guys.
Elisa MorGan speaker, author of The Beauty of Broken


In a world that speaks lies to women, Crushed is full of truth about relationships and how to trust God with your love life. I wish I would have had a book like this when I was in my early teens! This book digs deep into real issues girls face and how to align our hearts to make God our number one love. A must-read for girls of any age!
CarMen JustiCe, 1 Girl Nation


"God is enough." This overarching theme ripples through this beautiful book in ways that inspire courage, hope, commitment, and grace. Crushed is honest, practical, realistic, and relevant. It challenges the lies of our current culture with God's compelling truth and awesome love. Crushed is both preventative and restorative. It is truth in unvarnished and engaging beauty. When God is enough, then we are free to follow His lead, His timing, His plan.
Dan WolGeMuth President/CEO Youth For Christ, USA