products :: Nonfiction :: Doctrine / Theology ::
Ruthless
Ruthless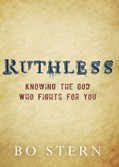 Price:
9.99
ISBN:
978-1-61291-602-6
Trim Size:
5 x 7
Binding:
Softcover
Release:
January 2014
Nothing reveals the gaps in our theology like a big, bad battle. When we are faced with a larger-than-life giant, we soon discover what we truly believe about God's willingness and ability to defend us. In her first book, Beautiful Battlefields, Bo Stern discussed the ways her family's battle with ALS has made them stronger and more effective than they have ever been—crediting the mercy of God and a solid understanding of His character. She'd studied His track record. She'd fastened herself to what she knew to be true of Him and refused to budge. These core truths about our Commander have become the sustaining force through her family's struggles. While their theology has grown increasingly simple, it has also grown increasingly strong.

In her new book, Ruthless, Bo's theology gets wonderfully practical as readers discover what God does for them and through them during "battles" they are engaged in. Ruthless helps readers to see God's character in those battles and understand how He ruthlessly fights for them.