products :: Nonfiction :: Leadership ::
Leading the DiscipleShift
Leading the DiscipleShift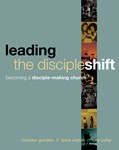 Price:
18.99
ISBN:
978-1-61291-495-4
Trim Size:
8.5 x 10.75
Binding:
Softcover
Release:
September 2013
Equip church leaders with the tools and insights needed to rally people around renewed purpose. Drawing from biblical principles and the experience of Real Life Ministries, this workbook guides users to evaluate the power of ministry alignment and personal influence for the sake of each church's God-given mission to make disciples. Each week includes four personal exercises and one collaborative session for a team meeting.
9 weeks of material designed for a church staff or ministry leadership team
A thorough outline of practical steps for leading a new or established church toward a unified mission of disciple-making
Interactive workbook includes assessments for areas of ministry and leadership
Clear plan of action unique to each church built around common biblical principles