products :: Nonfiction :: Parenting / Grandparenting ::
Parenting the Hurt Child
Parenting the Hurt Child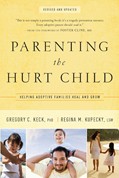 Price:
17.99
ISBN:
978-1-60006-290-2
Trim Size:
6 x 9
Binding:
Softcover
Release:
June 2009
The world is full of hurt children, and bringing one into your home can quickly derail the easy family life you once knew. Get effective suggestions, wisdom, and advice to parent the hurt child in your life. The best hope for tragedy prevention is knowledge! Updated and revised.