products :: Nonfiction :: Parenting / Grandparenting ::
Praying for Your Family 50-pack
Praying for Your Family 50-pack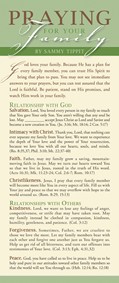 Price:
9.99
ISBN:
978-1-60006-205-6
Trim Size:
3.625 x 8.75
Binding:
Bookmark
Release:
July 2007
Pray, be patient, stand on God's promises, and watch Him work in your family. God loves your family. Because He has a plan for every member, you can trust His Spirit to bring that plan to pass. You may not see immediate answers to your prayers, but you can rest assured that the Lord is faithful.

Encourage the church to pray, help those who are new in faith develop their prayer life, and revitalize ministries with large prayer cards! Prayer card guides provide biblically based areas of prayer for specific needs or groups of people. Printed on both the front and back sides, they give numerous precise topics of prayer supported with Scripture references. Measuring 3.5" x 8.75", these prayer cards are easy to read and are perfect for placement in pews and display racks. Church members can easily keep them in larger size Bibles, on their refrigerator, or tacked to a bulletin board. Pack of 50 cards.