products :: Nonfiction :: Devotionals ::
Kingdom Family Devotional
Kingdom Family Devotional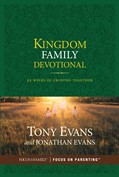 Price:
19.99
ISBN:
978-1-58997-855-3
Trim Size:
5.5 x 8.25
Binding:
Hardcover
Release:
January 2017
This new devotional from Dr. Tony Evans and his son Jonathan Evans will provide both single and married parents with a resource tool to maximize those family devotional times, such as the dinner hour or bedtime. The family virtues–based devotional provides 52 separate topics, one for each week of the year, and five devotionals within each topic that will guide devotional times Monday through Friday. This is a wonderful way to build a spiritually strong family week by week, day after day—a perfect way to head into the weekend. Topics range from the basics of the faith—such as salvation, spiritual warfare, prayer, forgiveness, and discipleship—to essentials of living as followers of Christ: money, prayer, family, friends, and priorities. The subject matter is simplified so even young children can grasp important concepts. This is a perfect resource for busy families.