products :: Kids :: Juvenile Fiction ::
Captain Absolutely
Captain Absolutely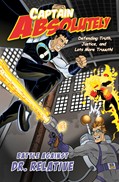 Price:
9.99
ISBN:
978-1-58997-852-2
Trim Size:
6.625 x 10.125
Binding:
Softcover
Release:
April 2017
After a computer explosion at the library, Josiah King takes cover in a room full of Bibles. He reads God's Word for the first time that night, and (with the help of mysterious radioactive fumes) is transformed into a superhero—Captain Absolutely. He embarks on a battle for truth and justice, pitted against his ultimate nemesis, the notorious Dr. Relative.

This popular comic strip (a spin-off of the popular Adventures in Odyssey series and originally featured in Clubhouse magazine) entertains and engages imaginations while helping kids grasp the role of God's Word and truth in making life decisions. Using the power of story, this exciting adventure poses vital questions about eternal truth that will help children discern how to stand firm in their faith in today's world.