products :: Kids :: Multimedia ::
Someone to Watch Over Me
Someone to Watch Over Me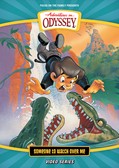 Price:
12.99
ISBN:
978-1-58997-761-7
Binding:
DVD Video
Release:
April 2013
Dylan has had some wild times in the Imagination Station before, but never one like this! Dylan and Jesse are on a smashing imaginary safari until a glitch in the computer program causes it to end prematurely. But when Dylan goes aboard to retrieve a forgotten backpack, he's catapulted into a series of bizarre events that would amaze even inventor John Avery Whittaker. Will Dylan survive his enemy's relentless pursuit? Can anyone lead him out of this labyrinth? Gather the whole family for a rousing tale of faith, courage and mystery.