products :: Kids :: Multimedia ::
A Flight to the Finish
A Flight to the Finish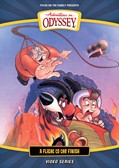 Price:
12.99
ISBN:
978-1-58997-754-9
Binding:
DVD Video
Release:
April 2013
Race to adventure with Dylan, Sherman, and John Avery Whittaker in this supercharged, fully animated DVD from Focus on the Family! The Tri-County Junior Grand Prix has come to Odyssey, and Dylan and his dog, Sherman, are ready to put the wheel to the road! Taunted by their new neighbors—Holly and her mischievous cat, Jasper—our heroes are determined to beat them to the checkered flag. But when Dylan's car literally explodes into action, and Holly's car careens out of control, Dylan faces a dilemma: save Holly . . . or win the race. It's an exciting story about caring for others and a rocket ride to the edge of adventure!