products :: Kids :: Multimedia ::
The Knight Travellers
The Knight Travellers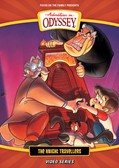 Price:
12.99
ISBN:
978-1-58997-753-2
Binding:
DVD Video
Release:
April 2013
A daring rescue! A voyage through time! A medieval joust . . . just another day in the town of Odyssey. Young Dylan Taylor gets more adventure than he bargained for when he saves a mangy mutt named Sherman—and winds up in the company of the remarkable John Avery Whittaker ("Whit"). They set out to retrieve Whit's Imagination Station, an amazing one-of-a-kind invention that allows kids to see historic events firsthand. The diabolical Faustus and his henchmen have stolen the Imagination Station for their own evil purposes—to change it into a Manipulation Station! In this exciting story, a young boy makes an unforgettable discovery about what is truly important in life . . . But is it too late to stop Faustus?