products :: Nonfiction :: Biography/Memoir/Autobiography ::
My Hair and God's Mercies . . . New Every Morning
My Hair and God's Mercies . . . New Every Morning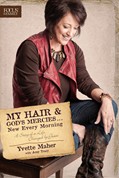 Price:
14.99
ISBN:
978-1-58997-689-4
Trim Size:
5.5 x 8.25
Binding:
Softcover
Release:
June 2012
Yvette Maher, a Kentucky farm girl, shares her life's traumas, trials, and triumphs. Before Yvette became a Christian, she dealt with emotional pain by filling the voids with drugs, alcohol, and empty relationships. Yet God did not abandon her. Through poignant stories laced with humor and irony, Yvette reveals how God has redeemed her devastating childhood by enabling her to forgive her murderous and unfaithful father and cope with her mother's debilitating depression. She tells how God has blessed her marriage even though she was several months pregnant when she walked down the aisle. Throughout the wild changes that have occurred in Yvette's life, God has been with her, ever-present and offering grace at each turn.
Endorsements
Yvette wins the hearts of everyone she meets. . . . I trust you'll find her stories funny, moving, deeply authentic—and above all, glorifying to God.
Jim Daly, President, Focus on the Family


Through Yvette's message, she will sit with you in your pain and give you cause to laugh, all the while praising the Jesus she loves until you're doing the very same.
Michele Cushatt, Inspirational speaker and author