products :: Kids :: Juvenile Fiction ::
Draven's Defiance
Draven's Defiance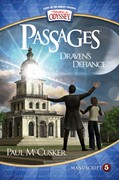 Price:
12.99
ISBN:
978-1-58997-636-8
Trim Size:
5.25 x 8
Binding:
Softcover
Release:
April 2011
While running through an old railroad tunnel, Scott Graham bumps his head, and suddenly finds himself in another world where time has stopped and he is expected to fulfill a purpose he knows nothing about—set for him by the Unseen One. In a wartime period resembling Nazi Germany, Scott must learn from a daring prophet and take a stand that will affect an entire nation—and his very life.
Based on the biblical story of Elijah, Draven's Defiance retells the story from a kid's perspective, helping kids understand the themes and principles in God's Word.