products :: Nonfiction :: Parenting / Grandparenting ::
Plugged-In Parenting
Plugged-In Parenting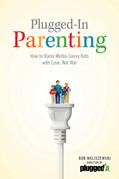 Price:
13.99
ISBN:
978-1-58997-624-5
Trim Size:
5.5 x 8.25
Binding:
Softcover
Release:
July 2011
Plugged-In Parenting comes at a time when parents find themselves between a rock and a hard place. They want to protect their children from the increasingly violent and sexualized content of movies, TV, the Internet, and music as well as cyberbullying and obsessive cell phone texting. But they fear that simply "laying down the law" will alienate their kids. Can parents stay connected to the media while staying connected to God and to each other? This book makes a powerful case for teaching kids media discernment, but doesn't stop there. It shows how to use teachable moments, evidence from research and pop culture, Scripture, questions, parental example, and a written family entertainment constitution to uphold biblical standards without damaging the parent-child relationship.
Endorsements
Today's parents are between a rock and a hard place. They want to protect their kids from the worst of the Internet, TV, movies, video games, and music—but they don't want to wreck their relationship with their children by always saying "no." Good thing Bob Waliszewski can show you the why and how of teaching your kids to make wise entertainment choices. Create your Family Entertainment Constitution and start practicing Plugged-In Parenting.
Gary Smalley, Author, Change Your Heart, Change Your Life


Bob Waliszewski knows what he is talking about! He is a brilliant man with a brilliant message. Families with children need this book to protect them from the degrading media influences that plague this nation. The timing of this book could not be better!
Dr. Joe White, President, Kanakuk Kamps


I was six years old when my brother took me to see The Blob. Although tame in comparison to what passes for science fiction horror today, I had nightmares for months. In fact, I was convinced an amoeba-type alien would find his way into my tiny bedroom in Southern California! Over four decades later I still remember how those graphic scenes clouded my innocent mind. In this excellent and timely book, Bob Waliszewski provides wise counsel along with useful tools that will help parents put into practice the old song many children still sing: Be careful little eyes what you see and little ears what you hear. Thanks to Bob and his latest contribution, when it comes to media and music consumption, that very difficult job has been made easier.
Jim Daly, President, Focus on the Family


Don't let technology build a wedge between you and your kids. In order to rise above the challenges that our ever-changing world presents, you need to have a united front at home. Plugged-In Parenting is a street-smart, grace-filled approach to preparing your kids to succeed in a media-driven culture.
Dr. Tim and Darcy Kimmel, Authors, Grace-Based Parenting


There has never been a more urgent need for children (and their parents!) to exercise discernment when it comes to making choices about media and entertainment. With cutting-edge content and practical steps for implementation, Plugged-In Parenting equips the parents so that they may equip their children. This is a resource that I strongly encourage parents to read.
Alex McFarland, Popular teen apologist, best-selling author, and Explore the Word radio host


Bob Waliszewski is one of the foremost experts in the world on creating a media safe home. This is a must read for any parent who wants to help their kids navigate the ever changing culture and thrive. Plugged in Parenting is filled with practical insight and years of wisdom. This book could be the most important investment you can make in the lives of your kids.
Jim Burns, President, HomeWord, and Author of Teenology: The Art of Raising Great Teenagers