Products :: nonfiction :: home/family ::
Becoming a Family that Heals
Becoming a Family that Heals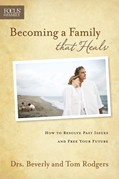 List Price:
14.99
ISBN:
978-1-58997-575-0
Trim Size:
5 1/2 x 8 1/4
Binding:
Softcover
Release:
September 2009
Many individuals enter marriage with deep soul wounds from their families of origin. Having little or no skill in conflict resolution, communication, and problem-solving, these couples then wound each other, and eventually, their children. This marital and family conflict leaves individual family members feeling alone and isolated, which can lead to divorce. These patterns are then repeated down through the generations. Working with countless families in their counseling practice over the years, the authors developed a model of relationships that has been used successfully to heal individual and family brokenness. They call this the Soul Healing Love model of relationships, and they've taught the concepts to ministers, counselors, marriage mentors, and lay leaders around the world. They now want to share these principles with as many families as possible.