products :: Nonfiction :: Parenting / Grandparenting ::
Raising a Modern-Day Princess
Raising a Modern-Day Princess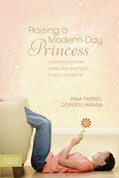 Price:
14.99
ISBN:
978-1-58997-574-3
Trim Size:
5.5 x 8.25
Binding:
Softcover
Release:
January 2010
In the same tradition as Raising a Modern-Day Knight, this book is designed to equip parents to cultivate strong relationships with their adolescents. Raising a Modern-Day Princess stresses the importance of creating a rite of passage for teen girls—a defining moment in which girls can be blessed by significant adults in their lives, and a call for their families and communities to celebrate and support them as they enter womanhood. This book offers practical help in raising a generation of women to see themselves as God sees them—as daughters of the King.
Endorsements
Pam and Doreen unfold life-giving words to moms and dads on how they can instill grace, worth, dignity, inner beauty, and destiny into the lives of their daughters. Whether you implement one or all of the ideas in this book, you will find this book invaluable as you invest in the lives of your daughters.
Fern Nichols, President and founder of Moms In Touch International


As a father of three daughters, I could not put this book down until I finished it. Every page is practical, inspiring, and life-changing.
Jim Burns, Ph.D., President of HomeWord and author of Teaching Your Children Healthy Sexuality


Attention all moms and mentors: do not pass by this book! This is an opportunity to have your daughter come into the fullness of being a true modern-day princess.
Patsy Clairmont, Women of Faith speaker