products :: Nonfiction :: Love / Marriage / Romance ::
The Surprising Way to a Stronger Marriage
The Surprising Way to a Stronger Marriage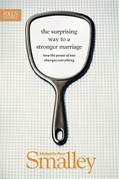 Price:
14.99
ISBN:
978-1-58997-560-6
Trim Size:
5.5 x 8.25
Binding:
Softcover
Release:
October 2010
The most significant act of love we can do for our spouse is the single act of taking personal responsibility—or "the power of one." We cannot reach satisfaction in our marriage relationships if we don't first look at ourselves and see where we need to change. Personal responsibility is the fuel that drives the actions of a healthy marriage.
Usually, each spouse blames the other for their problems; this attitude only leads down a path of unfulfilled expectations and heartache. But marriages can be transformed, literally overnight, when a husband or wife learns the power of one. By accepting personal responsibility for their own emotions and reactions, spouses can learn how to love their mates to the fullest and create a stronger marriage relationship—with the power of one.