products :: Nonfiction :: Biography / Memoir / Autobiography ::
Small Town, Big Miracle
Small Town, Big Miracle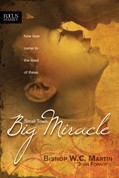 Price:
13.99
ISBN:
978-1-58997-443-2
Trim Size:
5.5 x 8.25
Binding:
Softcover
Release:
October 2007
On one memorable day, while Bishop W. C. Martin and his wife, Donna, were in prayer together, God gave them a one-word message: "Adopt!" They were called to carry out literally James 1:27: "Religion that is pure and undefiled before God, the Father, is this: to visit orphans . . . in their affliction."

Over the next five years, the Martins would adopt four kids, including two with special needs. And though they didn't make adoption a "cause" at that time, the members of their church of 200 soon caught the same vision. The church has now adopted 72 children and counting. Includes an 8-page black-and-white photo insert.