products :: Nonfiction :: Women ::
Beyond the Masquerade
Beyond the Masquerade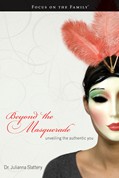 Price:
14.99
ISBN:
978-1-58997-377-0
Trim Size:
5.5 x 8.25
Binding:
Softcover
Release:
September 2007
Many Christian women today are wearing masks. From an early age, we are taught that to be valuable we need to do more, to be more. To feel worthy, we learn to hide behind the masks of our accomplishments, physical appearance, intelligence, education, relationships—even our work in the church. But those masks separate us from God, from other people, and from our true selves. Thankfully, there is hope. We can remove our masks and trust Christ to see us as we really are . . . but it takes humility. To examine our hearts, motives, and past experiences requires honesty and confession. But beyond the masquerade, Christ can heal and transform our lives, freeing us from bondage.