products :: Nonfiction :: Personal Growth/Self-Help/Motivation ::
Tender Mercy for a Mother's Soul
Tender Mercy for a Mother's Soul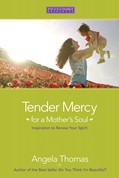 Price:
13.99
ISBN:
978-1-58997-308-4
Trim Size:
5.5 x 8.25
Binding:
Softcover
Release:
March 2006
Motherhood is a rigorous season of life—one that demands daily giving and self-sacrifice. All too often that sacrifice includes giving up time for self-care, especially soul care. Yet a life lived without spiritual refreshment can eventually result in burnout and emptiness. Mothers of all ages need the encouragement and direction this book offers to help them get on the path to walking with God daily and benefiting from his strength.