products :: Nonfiction :: Parenting / Grandparenting ::
Scriptural Blessings to Pray for Your Children 50-pack
Scriptural Blessings to Pray for Your Children 50-pack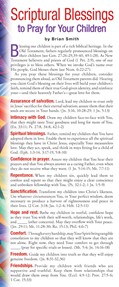 Price:
9.99
ISBN:
978-1-57683-963-8
Trim Size:
3.625 x 8.75
Binding:
Bookmark
Release:
October 2005
God wants to bless our kids. Although the most important of God's blessings are spiritual and relational, He also cares about His children's bodies, minds, and emotions. He knows that we care about our children in the same way, and He is pleased to answer when we request all kinds of blessings for them.

Encourage the church to pray, help those who are new in faith develop their prayer life, and revitalize ministries with large prayer cards! Prayer card guides provide biblically based areas of prayer for specific needs or groups of people. Printed on both the front and back sides, they give numerous precise topics of prayer supported with Scripture references. Measuring 3.5" x 8.75", these prayer cards are easy to read and are perfect for placement in pews and display racks. Church members can easily keep them in larger size Bibles, on their refrigerator, or tacked to a bulletin board. Pack of 50 cards.