products :: Nonfiction :: Parenting / Grandparenting ::
Parenting with Love and Logic
Parenting with Love and Logic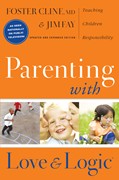 Price:
24.99
ISBN:
978-1-57683-954-6
Trim Size:
6 x 9
Binding:
Hardcover
Release:
April 2006
This parenting book shows you how to raise self-confident, motivated children who are ready for the real world. Learn how to parent effectively while teaching your children responsibility and growing their character. Establish healthy control through easy-to-implement steps without anger, threats, nagging, or power struggles. Indexed for easy reference.