products :: Teens :: General ::
Freshman
Freshman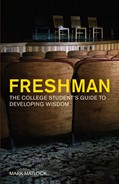 Price:
15.99
ISBN:
978-1-57683-729-0
Trim Size:
5.5 x 8.5
Binding:
Softcover
Release:
February 2005
Are you going to let God be the focal point of your life when you are at college? Will you follow Him, even when it's not the popular thing to do?

Popular author and speaker Mark Matlock helps incoming freshmen figure out if they are ready to combine faith and college by encouraging them to think about their faith in new ways.