products :: Bibles :: Text ::
The Message New Testament
The Message New Testament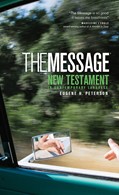 Price:
7.99
ISBN:
978-1-57683-430-5
Trim Size:
4.125 x 6.75
Binding:
Mass Paper, Green
Release:
March 2017
Born a King. Bearing a Kingdom.
When Jesus is born in a small town outside a minor provincial capital, few suspect the destiny awaiting him. But tremors felt among shepherds, kings, and angels foreshadow a seismic shift that will one day ripple across the globe.

Thirty years later, he emerges a dynamic preacher claiming to be the Son of God. In town after town, many attack his audacious claim and conspire to kill him. And when he falls under the harsh glare of one of history's greatest empires, death will stand between him and his destiny.

In the aftermath, a small group bands together—loyalists following his example and spreading his teaching. As they do, his flesh-and-blood life begins to transform them into a Kingdom that will have no end.