products :: Nonfiction :: Personal Growth / Self-Help / Motivation ::
Satisfy My Thirsty Soul
Satisfy My Thirsty Soul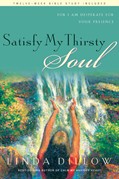 Price:
15.99
ISBN:
978-1-57683-390-2
Trim Size:
5.5 x 8.25
Binding:
Softcover
Release:
June 2007
Women have an innate thirst for true, genuine intimacy. Author Linda Dillow believes that this desire is created—and can only be satisfied—by a relationship with God. This 12-week devotional Bible study encourages you to move from concept into practice and establish a lifestyle of worship. Find rest and freedom from stress and grief in God's forgiveness. Includes discussion questions.