products :: :: ::
The Lifegiving Bundle
The Lifegiving Bundle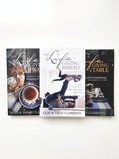 Price:
48.97
ISBN:
978-1-4964-3768-6
Trim Size:
6 x 9
Binding:
Softcover 3 Book Bundle
Release:
June 2018
Perfect for gift giving, this bundle of life-giving titles offers our highest discount on these resources. The 50%-off bundle includes three softcover books: The Lifegiving Home by Sally and Sarah Clarkson, The Lifegiving Table by Sally Clarkson, and The Lifegiving Parent by Clay and Sally Clarkson. This bundle would make an excellent wedding, housewarming, birthday, or bridal shower gift! Supplies are limited, so order your cost-saving bundle today! Read about each title below..

The Lifegiving Home
Every day of your family's life can be as special and important to you as it already is to God. In this unique book designed to help your family enjoy and celebrate every month of the year, you'll discover the secrets of a life-giving home from a mother who created one and her daughter who was raised in it.

The Lifegiving Table
In The Lifegiving Table, Sally shares her own family stories, favorite recipes, and practical ideas to help you get closer to the people you love . . . and to help you grow in faith together

The Lifegiving Parent
The key to shaping a heart begins at home as you foster a deep and thoughtful God-infused relationship with each child. Filled with biblical insight and classic Clarkson stories, The Lifegiving Parent will equip you with the tools and wisdom you need to give your children much more than just a good Christian life. You'll give them the life of Christ.