products :: Kids :: Juvenile Fiction ::
Squirrelnapped!
Squirrelnapped!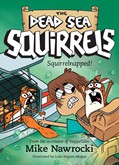 Price:
6.99
ISBN:
978-1-4964-3510-1
Trim Size:
5.5 x 7.625
Binding:
Softcover
Release:
September 2019
The Dead Sea Squirrels are missing! Well, Pearl is. Michael is enjoying his first Saturday of the school year, teaching Merle and Pearl to play soccer—in the house! A stray ball smashes his mom's prized elephant lamp, and Michel sees the chance to lay blame on his little sister. He and the squirrels head to the park to play. When the man in the suit and sunglasses shows up and snatches Pearl, Michel's friends and family band together to try to get her back! Michael learns the value of honesty.

Squirrelnapped! is the fourth installment in the hilarious new series from Mike Nawrocki, co-creator of VeggieTales.