products :: Fiction :: Biblical ::
A Lineage of Grace, Special Edition
A Lineage of Grace, Special Edition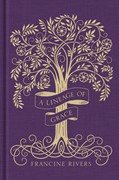 Price:
25.99
ISBN:
978-1-4964-3429-6
Trim Size:
6 x 9
Binding:
Hardcover
Release:
September 2018
This immensely popular compilation of five novellas about the women in the lineage of Jesus Christ from New York Times bestselling author Francine Rivers is now available for the first time in a deluxe, foil-stamped, linen hardcover edition! Meet five unlikely women—Tamar, Rahab, Ruth, Bathsheba, and Mary—whom God chose to change eternity. Each was faced with extraordinary, even scandalous, challenges. But they had courage. They lived daring lives. Sometimes they made mistakes—big mistakes. And yet God, in His infinite mercy, used them to bring forth the Christ, the Savior of the world.