products :: Kids :: Picture Books ::
Wow! The Good News Tract 20-pack
Wow! The Good News Tract 20-pack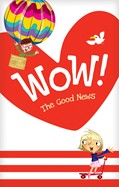 Price:
2.99
ISBN:
978-1-4964-3348-0
Trim Size:
3.5 x 5.5
Binding:
Pamphlet
Release:
June 2018
The gospel is often called "the Good News," and that's because it's the best news ever! Wow! tells the Good News using four words: Wow! Uh-Oh. Yes! and Ahh. Incorporating words that kids use every day, the gospel will take on a more personal meaning as kids learn the good news of God's love for them. Now this message is even easier to share with Wow! The Good News Tract. These pamphlets are perfect for sharing with a classroom, neighbors, or at a church outreach.

Additional online resources for parents and teachers include finger puppets, Bible verse memory cards, teacher helps, and more.