products :: Bibles :: Study ::
Africa Study Bible Pastor Project Edition
Africa Study Bible Pastor Project Edition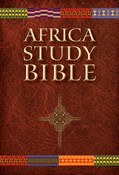 Price:
49.99
ISBN:
978-1-4964-3026-7
Trim Size:
6.188 x 9.188
Binding:
Hardcover
Release:
May 2017
Purchase this Bible and send another to a pastor in Africa! When you purchase this Pastor Project Edition of the Africa Study Bible, we'll ship one copy to you, and your purchase also makes it possible for us to send a copy to a pastor in Africa!
The
Africa Study Bible
brings together 350 contributors from over 50 countries, providing a unique African perspective. It's an all-in-one course in biblical content, theology, history, and culture, with special attention to the African context. Each feature was planned by African leaders to help readers grow strong in Jesus Christ by providing understanding and instruction on how to live a good and righteous life:
Over 2400 notes explain the Bible, inspire readers to apply truth to everyday life, teach Christian values and doctrine, and more.
"Touchpoints" and "Proverbs and Stories" give African perspective on the Bible and also show parallels with African wisdom.
A narrative timeline highlights God's work in Africa.
Experience God's Word through African eyes, and help a pastor in Africa with your purchase!