products :: Nonfiction :: Devotionals ::
The One Year Book of Hymns
The One Year Book of Hymns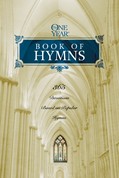 Price:
16.99
ISBN:
978-1-4964-2826-4
Trim Size:
6 x 9
Binding:
Softcover
Release:
April 2017
Experience daily the timeless truths contained in the many celebrated songs of the Christian faith. Each day's devotional includes the text of a classic hymn or song, the inside story about the author or origin of the song, and a related Scripture passage. Be refreshed and strengthened each day by the mighty words that have uplifted God's people through the ages.